Inside Advice and Design Tips
In households around the world, kitchens are the room where everyone comes together to cook, clean, and convene. It's no wonder that this inherently nurturing space is lovingly referred to as the heart of the home.
That being said, the heart is a complex organ and, in most homes, the kitchen comes with its own set of complications and frustrations.
Many of our major renovation projects start with the need for a more beautiful, better-functioning kitchen.
Our clients have lived with their existing kitchen for as long as they can stand — whether that's a few days or several decades—and now they're ready to invest in the kitchen of their dreams.
Start with What You've Got
Believe it or not, one of our favorite places to draw inspiration from for any Long Island kitchen design project is the client's existing kitchen. When we first meet for a consultation we will ask a ton of questions to help us to gain a good understanding of what you do and don't like in terms of both functionality and aesthetics.
Looking at the space you have helps us to reference concrete opportunities for enhancement as well as potential limitations.
Next, we move on to kitchen inspiration imagery. Clients will often present images from magazines, Pinterest, or even film and television sets; our job is to help them articulate what they like about those images and explain how they can work for them.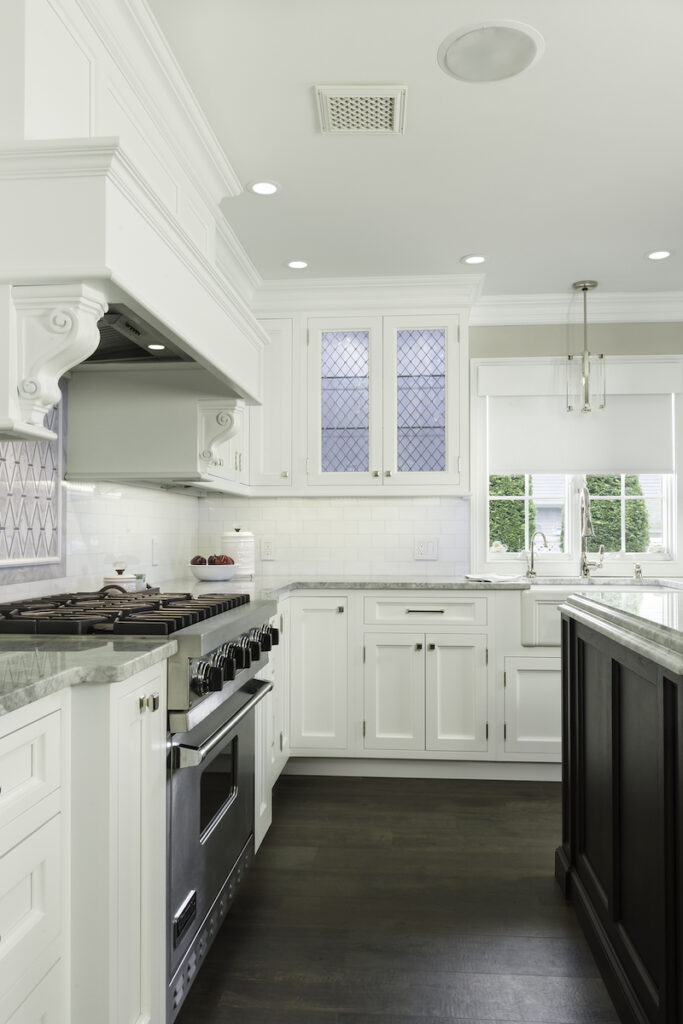 Your Dream Kitchen Wishlist
Successful kitchen design is all about making the space work for you, which is why we always establish a three-item wishlist with each client. Wishlist items are specific—increased storage or natural light or improved flow throughout the space—and they are likely what spurred you to redesign the space.
While updating the overall look of the kitchen is a goal for all of our clients, it does not count towards the list.
The Renovation Process
The renovation process can be overwhelming and oftentimes the kitchen is just one room on a larger list in the overall scope of work. Between the investment and the myriad of decisions they need to make throughout the project, it can be easy to lose sight of your goals.
A specific and finite list helps us to remain laser-focused throughout the process; it keeps everyone on-task and ensures that the finished result is everything you hoped for and more.
If a client brings up a new idea later in the project, we refer them back to the wishlist to ensure that it won't compromise their original goals.
Timeless Long Island Kitchen Design
If you've been following us for any amount of time, then you know that timeless design is our specialty and it's especially important in the kitchen given the investment you'll be making.
Kitchens are largely made up of fixed items like cabinetry and high-ticket hard goods like appliances and countertops, so it makes sense to select colors, styles, and finishes that you won't tire of.
Save the more adventurous selections for soft goods, like throw pillows and bedding, in other spaces which you can switch out easily and for a relatively low cost.
Our Recipe
Our recipe for a timeless kitchen calls for texture, dimension, and a mix of natural materials and fibers like wood, stone, leather, and linen.
We'll help you put together a diverse selection of design elements that speak to you on a personal level, creating a balance and a style that is all your own rather than any one "look."
When we bring our clients in for the big reveal, they are often amazed and unable to put their finger on any one ingredient that makes the design so delightful to them.
Keep it Simple
When our founder Melissa Sacco visits her family in Italy, she always remarks on how their kitchens are intuitively organized. They store only what they need and everything is in a location that makes sense — like keeping heavy plates in the lower cabinets or spices below counter height.
She carries that user-friendly sensibility into the kitchens she designs for clients. Layout is of the utmost importance and gadgets are kept to a minimum (although we do love a well-thought-out appliance garage).
Even in larger kitchens, we encourage clients to incorporate elements that they will truly love and enjoy using on a regular basis.
One current kitchen renovation project in Brookville involves a breakfast nook, a butler's pantry with a French bistro vibe, and a fireplace with a soapstone surround—it's basically our dream kitchen. Each section has a unique purpose.
Stay tuned to our Instagram for some sneak peeks!
The Great Layout Debate: Open Floor Plan or Closed?
Talk about personal preference! We have worked with clients on opposite sides of the spectrum and everywhere in between and when it comes to this decision we always refer them back to the wishlist.
For instance, if a client wants an open-plan kitchen, but increased storage is number one on their wishlist, we need to carefully consider the opportunities to make up for whatever wall space we are losing by opening up the space.
A large island with ample storage will often do the trick, but we like to come up with more creative solutions as well.
Take for example our Seaford project from a few years back. We opened the kitchen and the dining room into one big space to improve the flow and then created multifunctional custom millwork that doubles as storage and serving space.
By adding extra details like inset doors and hardware in varying sizes, we created a beautiful, custom piece that looks more like furniture than a continuation of the kitchen cabinets.
On the flip side, if a client would prefer to keep the kitchen as a separate space, but improved natural light is on their wishlist, we might look into installing larger windows or even a door.
If improving or adding light sources isn't an option, another fix would be to select glossy surfaces that will reflect light and give the feel of more open space.
Improving Flow
Whatever your wishlist items are and whichever colors and styles you favor, you want to make sure that any changes you make to the layout of your kitchen improve the flow rather than impeding it.
When you work with a skilled interior designer, we make sure that you have enough clearance to open all of your appliances—dishwasher, oven, refrigerator—and that the layout is conducive to how you function and the number of people who will regularly occupy the space.
If you're looking for more Long Island kitchen design inspiration, we invite you to take a closer look at our portfolio which features a variety of homes in Nassau and Suffolk Counties.
If you're ready to redesign your kitchen, we encourage you to review our Luxury Design Plan and book a consultation. We look forward to meeting you!