How We Plan a Space
There are a lot of fun and exciting steps in the interior design process. Some clients love color palettes and fabric selection, while others get giddy about new appliances, but furniture layout is not typically one of the first things people look forward to when working with a designer.
This does not mean that it is any less important; in fact, furniture layout can make or break a space.
As experienced interior designers, flow and layout are often where we see the most room for improvement in a new client's home. From improper scale to too much furniture or not enough, we've seen it all!
Furniture placement directly impacts the flow and functionality of a room. Oftentimes, when you can't put your finger on what isn't working in a room, the answer is the layout.
Bring in too many pieces or items that are the wrong scale and frustration is sure to follow. Our extensive training and on-the-job experience mean that we know how to optimize your layout and deliver the most beautiful, livable space possible.
So What Is a Furniture Layout Plan?
A furniture layout drawing shows the schematic top view of all of the furniture that will go into a space as well as its location, size, and shape.
If you're ever watched a home design show, you've probably seen the hosts talk through the floor plan and watched as they digitally drop in the pieces of furniture they plan to add to the space in the final design.
We use a similar computer program to draw your space and furniture items to scale. Our Luxury Design Plan clients will find these drawings to be especially useful, as they will serve as a roadmap for when the furniture is delivered.
When the installers arrive, they can simply point to the plan to show them where each piece goes. With our Luxury Full-Service Design, placing the furniture is part of the package and you'll see us referring back to the furniture plan during the installation process.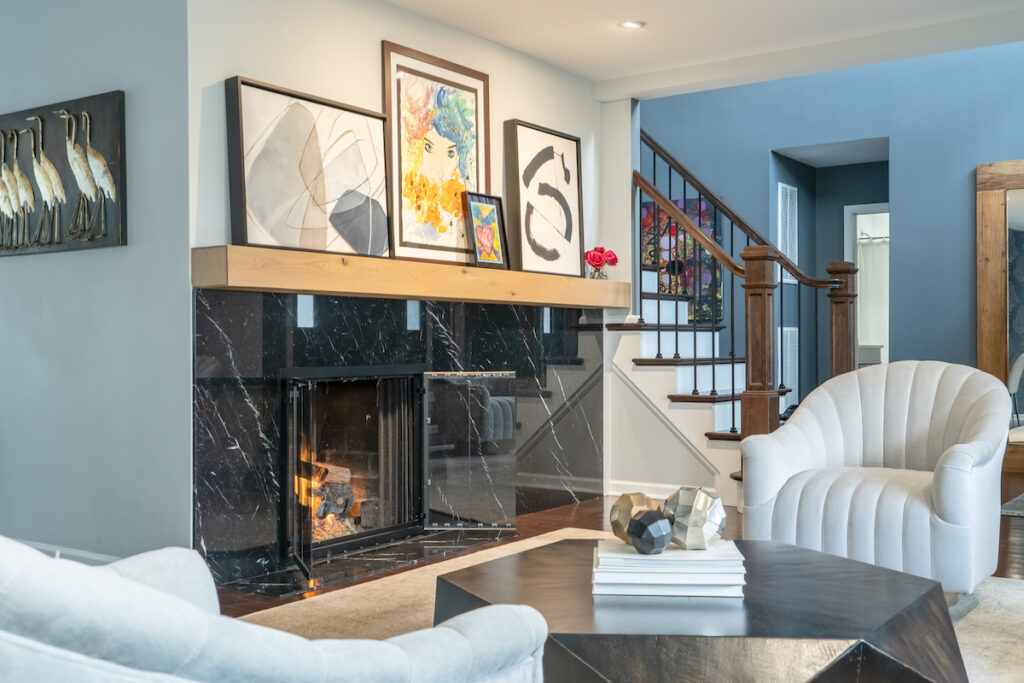 When Planning a Space, Where Do You Start?
Improving the flow of a space is always on our design to-do list. In order to create the most efficient and user-friendly layout, we ask a series of questions at the beginning stages of every project. Here are some examples:
How do you currently utilize the room?
How would you like to utilize the room?
What works for you now? And what does not work for you?
How many people will be utilizing the space?
How frequently will they use it and in what capacity?
You'll notice that all of these questions go to the use of the room. The elegant interiors that we design are not a one-size-fits-all solution.
In order to create a successful design, we need to customize it to suit your visual style and your lifestyle. Once we've learned everything we can about how you will use the space, we also assess natural light and access to other areas in the home.
Next up are the essentials. By selecting a client's must-haves first, we can eliminate the possibility of overcrowding the space.
It's easier to add to a design than to subtract. If you order too much upfront, it's likely that you'll be left with pieces that don't fit.
We love designing dynamic layouts that include multifunctional elements that move as you need them to—whether that's accommodating kids coming home from school and crashing on the couch to do homework or hosting a holiday gathering.
An ottoman is a great example as it can serve as extra seating, be paired with a tray to function as a coffee table, or be stored under a console table for when you need the extra floor space.
Built-ins are another opportunity for multi-functional design. From storage to functioning as a serving station; when properly designed there is no limit to what these gorgeous workhorses can do.
Whatever elements we decide to include, the idea is that we don't want to overstuff the space with furniture so that you are married to a single layout; our designs give clients the freedom to move things around as needed.
Want to see what we mean? Check out this renovation project we completed in Syosset.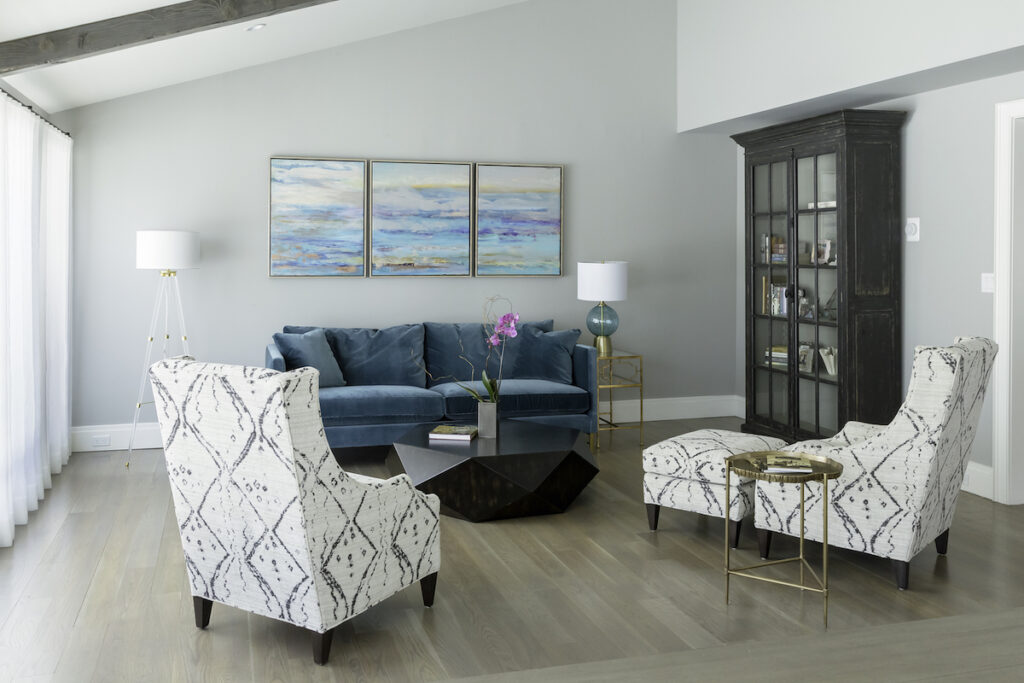 Beware the Vignette: Sets Aren't Set in Stone
Furniture shopping without a designer can be intimidating. The wide variety of options can lead to overwhelm and before you know it you're thinking you'll probably save time and money by just buying the set as you see it on the showroom floor.
We are here to tell you that the matching set is not all it's cracked up to be. These pieces of furniture might look great on the showroom floor, but that showroom is not your home.
Countless factors—like ceiling heights, lighting, neighboring pieces, and other variables—impact your perception and play on your sense of scale.
Additionally, these sets are designed to make you feel like you have to buy all of the pieces together.
While it can be difficult to imagine breaking the pieces up, especially if the salesperson is offering a deal on the bundle, we assure you that it can be done and it is likely in the best interest of your home to do so.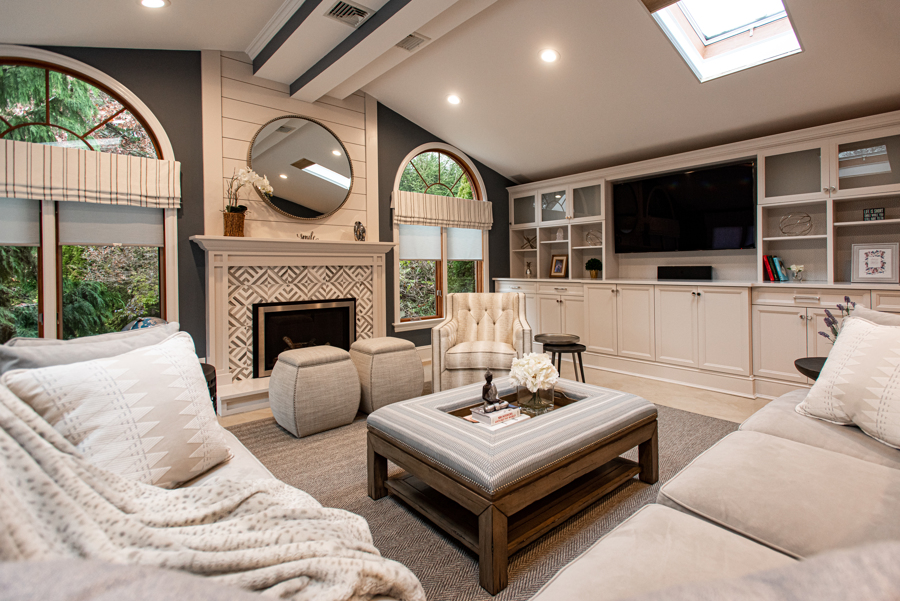 The Role of the Rug
In our process, we like to lay out the furniture first and then select the rug. This is also helpful in determining whether a standard size—like 5'x8′, 8'x10′, 9'x12′ or 12'x15′—will work or if a custom rug size is in order.
We are not exaggerating when we say that all of the work we've done on scale and balance to this point can be undone with the rug.
A properly proportioned area rug can ground the space, serving as the glue that holds the room together.
On the flip side, selecting the wrong size rug will throw everything off. One way to avoid this incredibly common mistake is to use painter's tape to mark the intended location of the rug using the exact dimensions.
This will give you a rough idea of the proportion and scale so that whether you're shopping in person or online you can select the correct size rug. This trick also works for furniture, so remember—when in doubt, tape it out!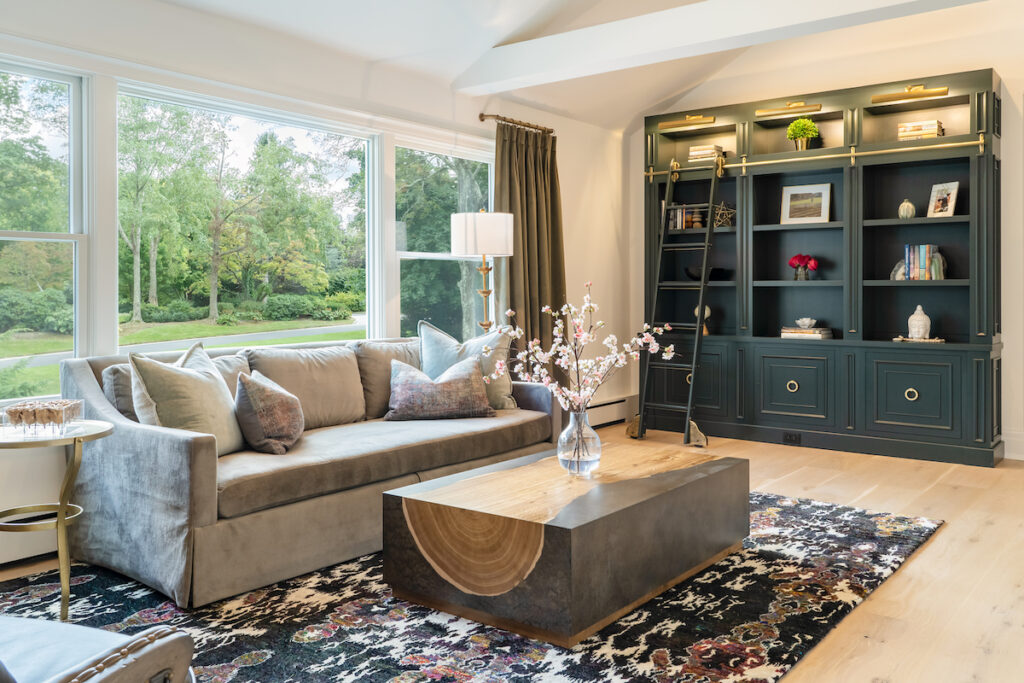 If we've piqued your interest and you're wondering how we could improve the layout of your home, we would love to hear from you. Click here to schedule a consultation.