How To Create the Relaxing Retreat of Your Dreams
For many of us hard-working individuals, achieving calm requires a bit of effort on our part. We're hustling all day long and it can be challenging to switch gears or put on the brakes—even when we're exhausted and it's time for bed.
A peaceful and intentionally designed bedroom can make all the difference when it comes to how you start and end your day.
So how do you create a calm bedroom?
Most of our clients want their bedrooms to be a tranquil space where they can unwind and recharge. They've seen a variety of elegant and relaxing bedrooms in our portfolio, but the real magic is in how we work with each individual client to create the perfect bedroom sanctuary for them.
It all starts with a consultation. We'll review inspiration photos, discuss your style and ask you to share about your typical day.
You would be amazed at how much your profession has to do with achieving a calming bedroom design. Our clients in the medical field often request bright, happy details in their bedrooms whereas our financial clients appreciate symmetry.
As for us, our principal designer/founder Melissa's home is mostly white because she looks at color and pattern all day!
Once we know your likes and dislikes, we can talk about how they will translate into your bedroom design. While each client has a singular set of needs, there are certain constants when it comes to creating a calming space.
With that in mind, we've put together a list of our top five ways to weave calm into your bedroom design.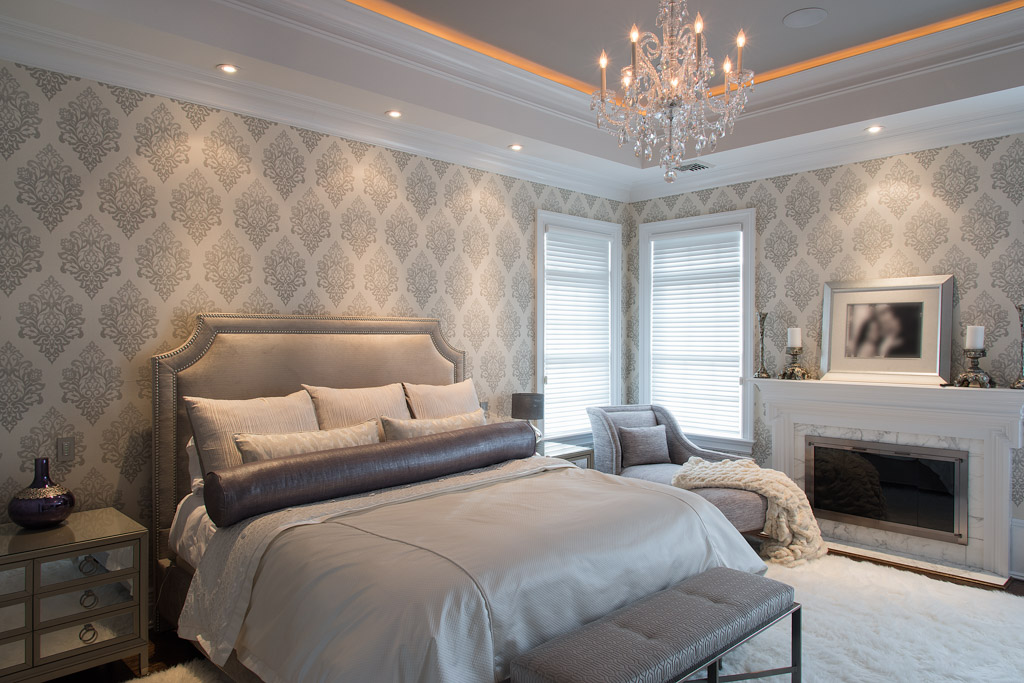 Our Five Tips
1. ALL THE FEELS
In order to create a calming space, it can be helpful to think about the things that make you feel tense or stressed.
Clutter is one of the quickest ways to rob a space of its serenity. Incorporating ample storage can help to minimize the mess.
An edited selection of books, candles, greenery, and family photos add warmth and personality, but beware of the nightstand as it can quickly become a clutter collector.
List your bedtime essentials—a sleep mask, hand cream, earplugs or a sound machine, maybe a glass of water?—and we'll present tasteful options with sufficient storage.
Scale can also play into feelings of stress and anxiety. Filling your room with items that are too large for your space can make you feel claustrophobic.
On the flip side, a larger room with items that are too small might feel sparse or even lonely. As designers, creating a sense of balance is our specialty.
Finally, there's the great technology debate. Televisions and other smart devices are said to have a negative impact on your ability to relax, but what if you use your phone as your alarm clock? And a sick day is the perfect time to binge-watch your favorite shows in bed.
Charging drawers keep devices out of sight, but within reach and frame televisions give the look of a traditional picture frame when not in use. If it's a must-have, we'll make it work.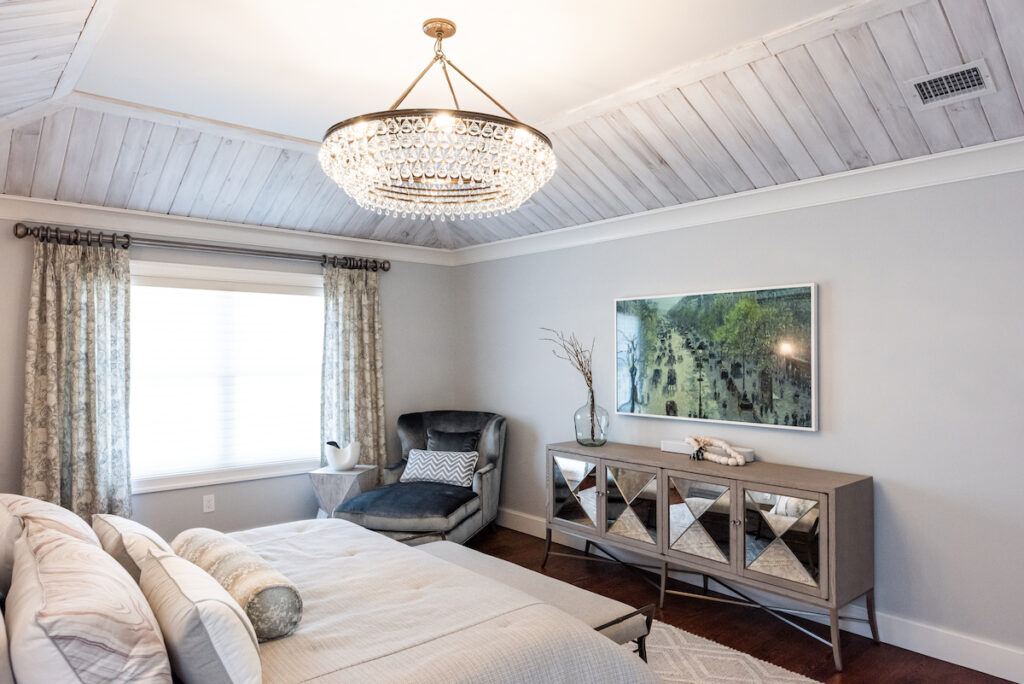 2. LIGHTING AND ILLUMINATION
Calm bedroom lighting isn't just about dimmer switches. When designing your bedroom we'll take both natural and artificial lighting into consideration.
Natural light can be controlled with various types of window treatments. There are drapes, curtains, blinds, and shades. Each of these options has countless style options and you can choose to layer them as well.
Sheers create a soft glow, drapes and curtains add character, and blinds and shades are ideal if your bedroom windows are in full view of the neighbors. There are also room-darkening and blackout options which are helpful to clients who routinely work the night shift or suffer from jet lag due to frequent travel.
On the artificial lighting front, there are countless ways to layer lighting that lend themselves to creating a calm bedroom.
The right lighting can improve your mood and stabilize your circadian rhythms, thereby helping you sleep better.
There's recessed lighting and ceiling fixtures, sconces and pendant lights, table lamps, and floor lamps, not to mention an endless array of fixtures, shades, and accessories.
We'll vet your options and help you create whatever mood you desire.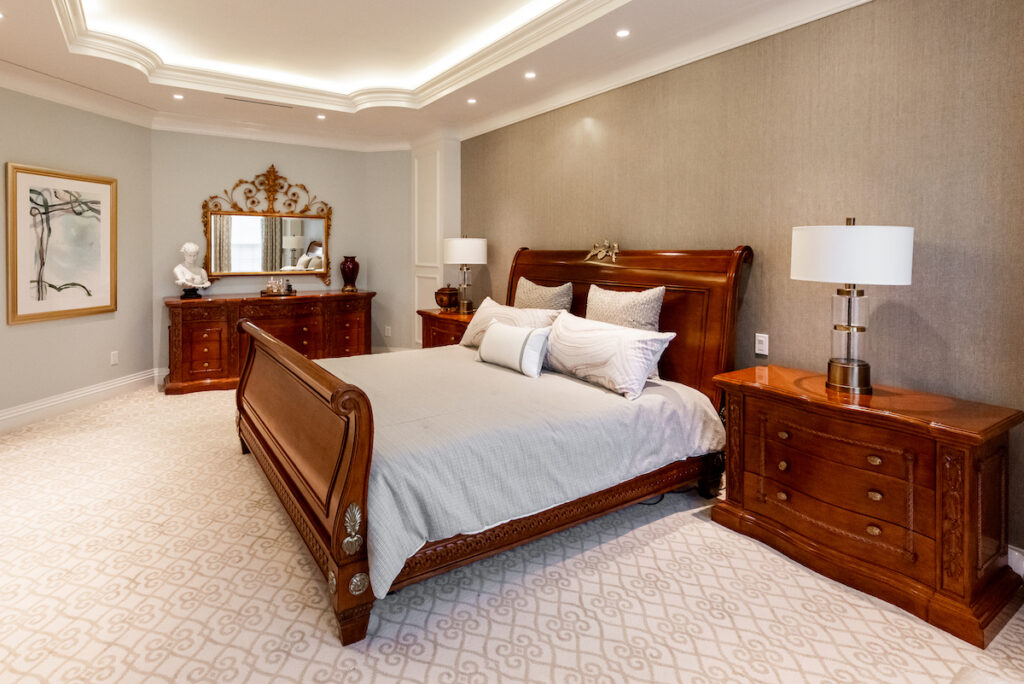 3. SOFT SURROUNDINGS
Is there anything better than flopping down onto a cushy mattress after a long, hard day? Or snuggling up on a Saturday morning under super soft sheets?
Whether you're a real bed person (like actress Casey Wilson) or simply see it as a place to sleep, your bed is bound to be a focal point in/the centerpiece of your room.
We're fans of organic bedding, which gives the room a warm, homey, and casual vibe. We also advocate for high-quality mattresses and selecting the perfect pillow (raise your hand if you're a side-sleeper!).
After all, what good is a gorgeous bedroom if you're not getting a great night's sleep?
A perfectly appointed bedroom wouldn't be complete without creature comforts like a cozy throw blanket (we like cashmere, velvet, linen, or even faux fur), an upholstered headboard in a plush performance fabric, or a custom rug (we're partial to hand-knotted silks and Moroccans).
Soft fabrics can also help to dampen sound, so feel free to splurge in the name of silence.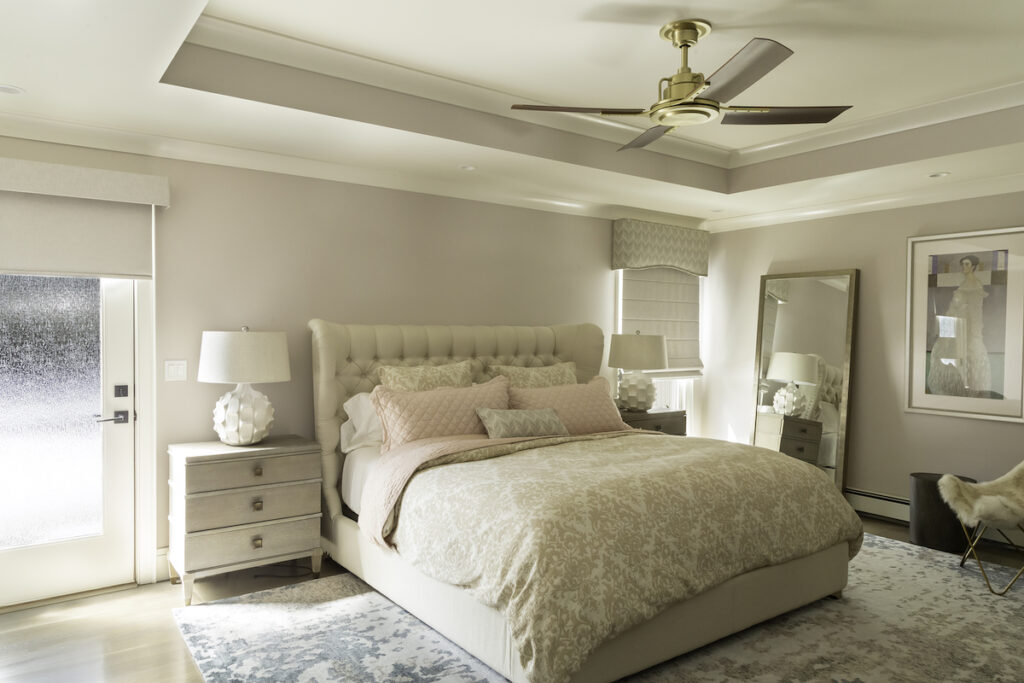 4. THE LAYERED LOOK
When a caterpillar builds its cocoon, it creates multiple layers. There is beauty and safety in the structure, so it makes sense that people regularly use cocoon analogies in regard to both sleeping and bedrooms.
At Melissa Sacco Interiors we are all about layering in ways that feel light, airy, and purposeful.
When mixing and matching materials, finishes, fabrics, and decor, we make sure not to use anything too harsh in terms of color or weight.
Natural materials like wood, stone, metals, and greenery play off of one another seamlessly. By keeping patterns more subdued and sticking to a monochromatic scheme we can create a dynamic design that doesn't feel overwrought.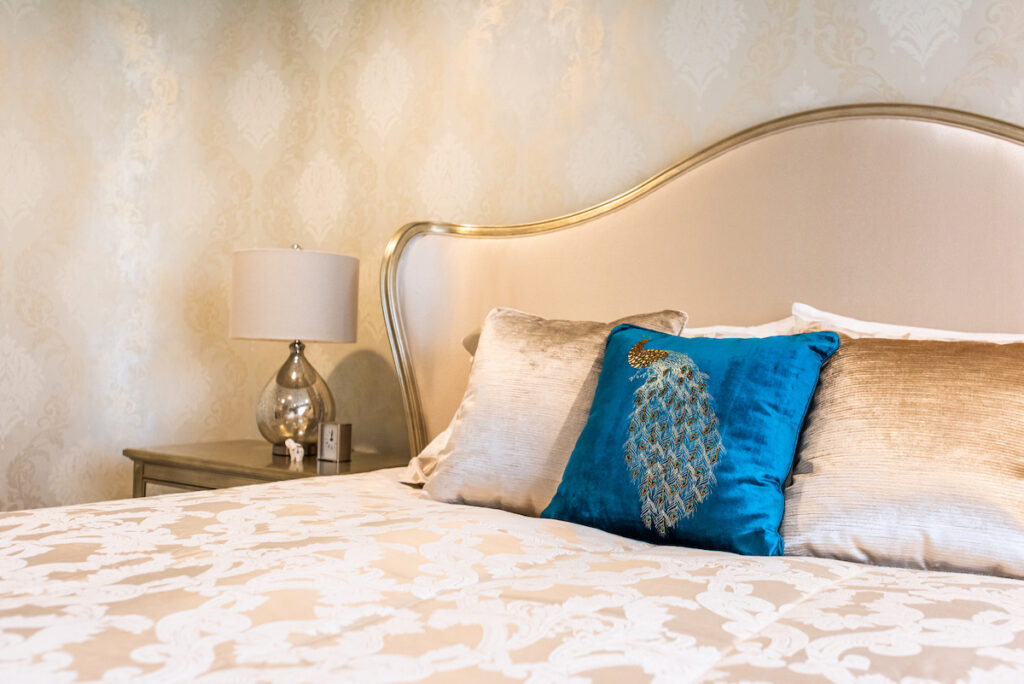 5. OPEN TO INTERPRETATION
A common misconception clients have about design is that you need to make direct references to your inspiration.
For example, if a client wants a beachy vibe, they may suggest seashells and sand dollars. If a snowy mountain getaway is more their speed, a bearskin rug might come up in the conversation.
Those are all great starting points, but rather than going for an overt theme we like to find innovative ways to interpret your vision.
Those seashells might become a tray with shell or bone inlay and a tasteful cowhide rug is an eco-friendly alternative to taxidermy.
Take this house in Massapequa, NY, for example. The clients lived near the beach and wanted that reflected in their design. We used a beautiful color palette of light, earthy neutrals complemented by deep, sea glass tones and rich textures to create this timeless transitional look.
Creating a calm, relaxing bedroom sanctuary is a highly personal experience, one we'd love to help you with.
Stop hitting snooze on your bedroom design dreams, schedule your consultation today.