Our Recipe for Elegant Interiors that are Classically You
As designers, we've seen countless trends come and go. While most are not without their merits, our firm is all about timeless design because a home shaped to your own unique needs and tastes never goes out of style.
A common misconception we run into when discussing timeless design is that it's somehow traditional when actually it's anything but!
Timeless design is an unapologetic assembly of the things you love put together in a way that makes everyday life feel that much more luxurious.
We've designed countless homes all over Long Island and each one feels cohesive, collected, and unique to the owner.
Given the unique nature of each project, many of our clients can't quite put their finger on what it is about our look that they are drawn to; to us, this means we're doing it right.
Additionally, we love when clients reference our older projects as a source of inspiration for their new designs. This whole house renovation we did in Roslyn Heights was completed ten years ago and new clients still reference the photos from it today.
So how do we do it? We thought you'd never ask! Here are our top five tips for achieving the elusive timeless design:
1. The Magic is in the Mix
Timeless design is like an Italian recipe for sauce — a little bit of this and a pinch of that. If you ask someone else to replicate it, it will never be exactly the same.
That being said, we always mix old and new, metals and materials, textures, and even dimensions. During the consultation, we often reference the jewelry a client is wearing; we point out how they mix materials and elements and explain how their home can work the same way.
This raises their comfort level with the concept because it's something they do every day. In order to make it feel cohesive, we create connections throughout the home using the same materials or employing similar elements in multiple spaces throughout the home.
The result is a focused look and feel that is apparent from the moment they walk up to the front door and never waivers.
2. Think Collected, Not Collections
When shopping for fabrics, furniture or any number of items, stores and showrooms often present them to us in collections. They are telling us that these items go together.
This may seem helpful at first, but it is one of the quickest ways to make your home seem dated to homeowners and guests alike.
If you're working with a designer, as opposed to a salesperson, they can help you to select pieces that are representative of you rather than a brand, trend, or specific style.
Why limit yourself? We encourage clients to pick pieces from different styles then allow us to flex our design skills; we'll put them together in a way that's sure to surprise and delight you for years to come.
3. Breaking it Down
When clients talk about design they often refer to general, overarching styles like traditional, transitional, modern, eclectic, etc.
The thing about these terms is that they mean different things to different people.
Sure, there are some items that are inextricably linked to a specific style—a flat-panel, high-gloss door, for instance, will always read as modern—but more often than not we can work with them to break down what they do or don't like about a specific style.
Do they feel that the high-gloss door is glamorous? Or do they like how neat it looks? Where did they see the door? Is the connection more about the place than the actual aesthetic?
We take the time to get to the root of their attraction to the item and then present options that will hopefully evoke that same feeling. We also find that making analogies is helpful as well as referencing designs they see in their everyday lives.
We tell them to pay attention to old mansions and buildings, especially in New York City, so they can call out the historical design elements, like white marble, they like in those buildings. It helps to show them that many materials that will stand the test of time aren't exclusive to a particular style.
4. Color & Pattern
Whether we're talking about clothes or interiors, there are certain colors, patterns, and materials that will always be considered timeless.
Who doesn't love a crisp white blouse, a black blazer or a little black dress? The world of interiors has its own set of must-haves for classic style.
In our projects, we use tons of natural materials like marble, metals, and wood—and we love stripes! They can be dressed up or down and they are as timeless as diamonds—only much more affordable.
We're also fans of all-white design. In theory, that may sound too modern or worse, sterile, but we know how to realize an all-white vision in warm and welcoming ways.
We live for layering dimension and texture and when we're working on a kitchen design we're all about using different heights and depths in cabinetry.
5. When to Save & When to Splurge
Timeless design is everlasting, so you can feel good about investing in certain pieces.
Sofas and sectionals are a great place to splurge; not only will you feel the difference in comfort, but a quality piece with good bones can also be reupholstered to suit your style if it should change a decade from now.
Flooring and built-in cabinetry are also important budget items. Both require skilled tradespeople to fabricate and install and the end result is beyond compare.
While these modern-day artisans can be hard to come by, we are grateful to have established relationships with the best trades on Long Island.
Bonus Tip: If you decide to update your custom cabinetry down the line, we often find that simply changing out the hardware can make a world of difference.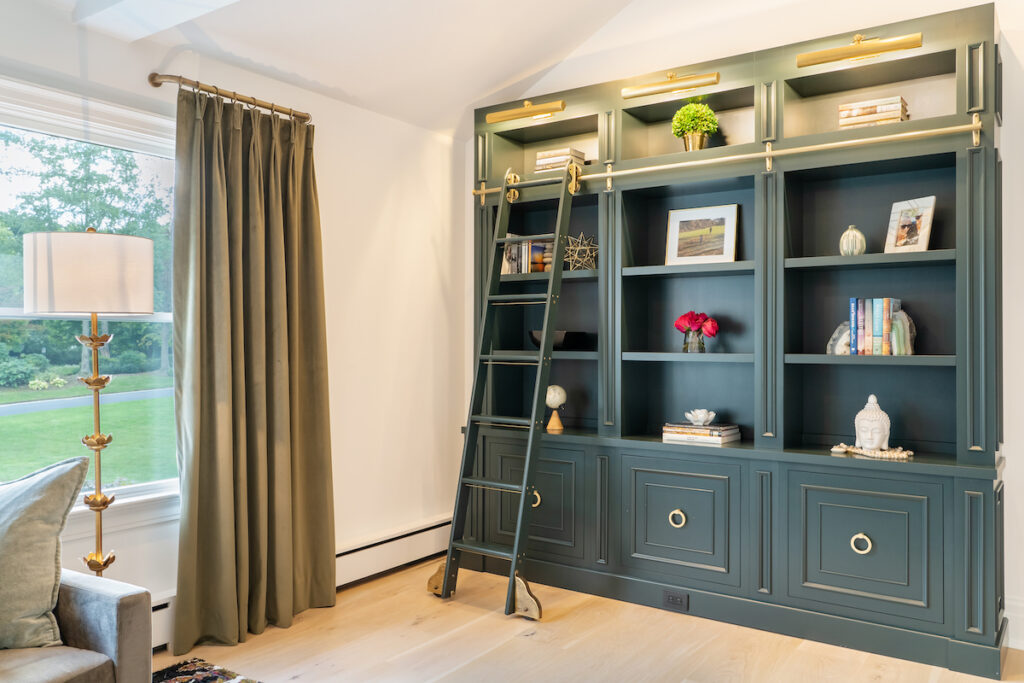 Much in the same way that a Burberry trench coat, a Cartier Tank watch, or a stay at the Ritz Carlton never goes out of style, our designs are eternally chic.
It's all about quality, style, and living your best life on your own terms. If you're ready to discover your own version of timeless style, we invite you to schedule your consultation today.