Which of Our Interior Design Services Is Right for You?
Starting an interior design project is exciting. Your home is about to undergo a transformation and the finished result will be something you can enjoy for years to come.
There will be decisions to make and moving parts that need to be managed. Our Long Island-based boutique interior design firm has guided countless clients through this process.
In fact, our extensive experience is what led us to develop our signature services—our Luxury Design Plan and our Full-Service Interior Design Plan.
But before we get to that, we'll need to see if we're a good match.
Our clients are busy professionals with a lot on their plates. Many of them run high-pressure businesses, some travel frequently for work and others are the CEO of their household in addition to their already demanding careers; but they love it and they love the life they're building.
They want to invest in their homes, but they don't have the time or the desire to handle the process themselves. That's where we come in.
Designing a Cohesive Home
At Melissa Sacco Interiors, our work goes beyond designing elegant interiors. We are passionate about creating positive change in your life through your home.
Regardless of which package you choose, we will serve as your dedicated design partner. We listen to our clients and carefully catalog every interaction—you'll be amazed what we pick up on and how it can translate into the design of your home.
We pull things together in ways that will have you saying, "I never would have thought of that!" and "We couldn't have done this without you!"
Our approach to timeless design means that there is no one "style." Instead, we will help you to identify elements that you love and then skillfully incorporate them throughout your space.
Timeless design is sophisticated, subtle, adaptable, and—most importantly—everlasting. It's interesting without ever being attention-seeking. If you've ever wanted your home to have that "it" factor, you've come to the right place.
Both our Luxury Design Plan and our Full-Service Interior Design Plan create the kind of continuity that is both imperceptible and undeniable.
From the moment you arrive at your home and throughout your entire interior, everything will flow. It's all about cohesion.
Which Interior Design Plan Is Right for Me?
In each of our projects, we start by taking all of the necessary measurements and creating a scaled floor plan. As you'll see, proper scale and good balance are essential to any successful design.
We then present an array of options tailored to your taste—furniture, finishes, fabrics, windows treatments, and more.
With access to trade-only lines and showrooms, you can rest assured that the home we create together will be unique.
Once you've made your selections, we purchase them on your behalf and stay on top of the status of each item including the coordination and scheduling of deliveries.
How to Choose:
Our Luxury Design Plan, which includes all of the aforementioned services, is perfect for when you want to refresh or redecorate your home.
Maybe you've entered a new stage in life (we see you, empty nesters!) or your space is outdated and you're feeling uninspired; together we will reimagine your home for how you want to live.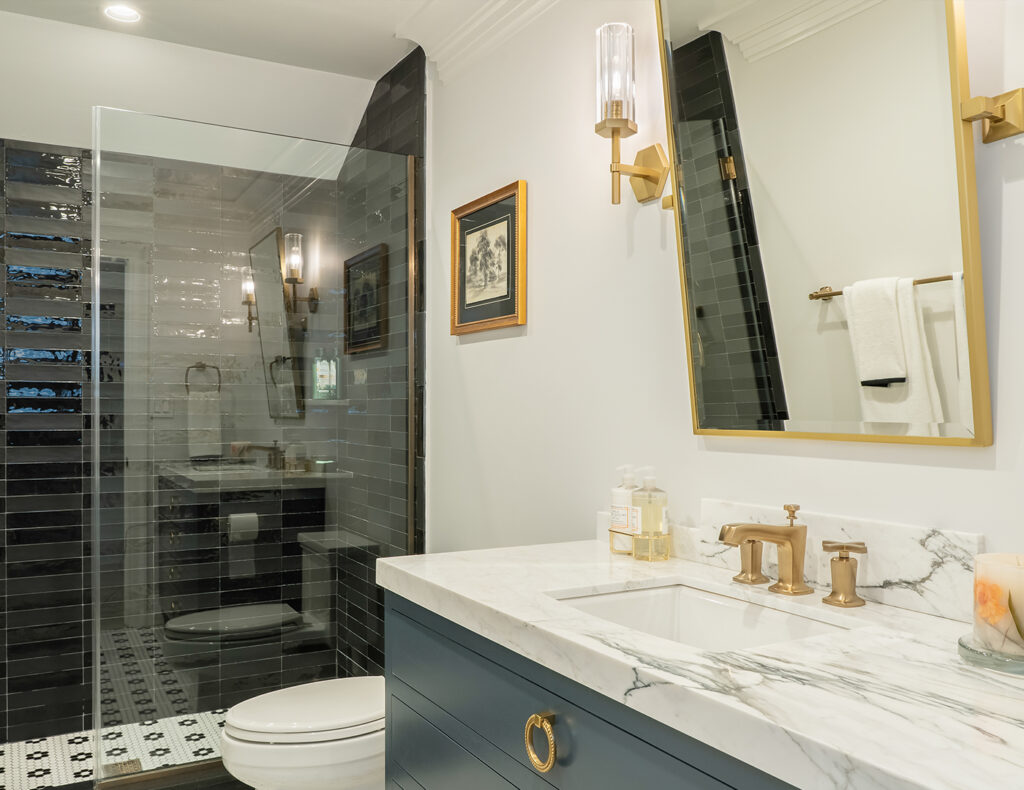 Our Full-Service Design Plan picks up where the Luxury Design Plan leaves off.
While the previously mentioned services are essential to the success of any of our design projects, our Full-Service Design Plan is ideal for when the scope of work calls for renovations that require additional assistance from a general contractor and talented trades and craftspeople.
In our experience, the involvement of these skilled workers requires considerable coordination, scheduling, and management that is best handled by our team.
By providing both creative direction and project management services, we ensure that nothing falls through the cracks and your project stays on schedule.
Think of your interior design project as a symphony—each aspect is an instrument and each professional involved is a musician. We serve as the conductor, creating harmony and beautiful music. The moment something sounds off, it catches our ear and we are able to address it immediately.
In addition to handling all of the trades, we also manage deliveries and the installation of furniture and accessories for our Full-Service Design Plan clients.
The comprehensive nature of this package also makes it a great option for clients with large-scale homes (like the 6,000 square foot residence we are currently working on).
You could literally go to live on the other side of the world while we complete your project and come home to find your space transformed and ready to inhabit. We're that good.
Dedicated To Making Your Dreams Come True
The level of comfort and ease that we provide to our clients is the ultimate luxury. It goes beyond managing the process from start to finish—it's knowing that you're being taken care of by a team of talented professionals who value integrity above all else.
If redesigning your home sounds tempting, but overwhelming, we get it. Life is busy and you work so hard; time is your most valuable resource.
We want you to know that you don't have to put your life on hold in order to make it more beautiful. With your project in our capable hands, you can focus on the things that really matter in life.
Enjoy some family time, go out for a bite to eat, plan a getaway. We've got everything under control, so you can focus on refilling your cup while we refresh your space.
If you're ready to embark on this exciting journey, we would love to hear from you. Click here to schedule a consultation.