Our Long Island Interior Design Firm's Full-Service Approach
Embarking on an interior design project is exciting. This is an opportunity to create a home that is uniquely your own. But before you start mentally demolishing your kitchen, there are a few things we would like you to consider.
As a full-service interior design firm, we are passionate about delivering an exceptional experience and comprehensive home design to all of our clients. From attending project meetings to placing the last piece of decor, we are available on-site, in-person and virtually to support you in this process.
Whether we are collaborating with your architect on a new build or managing your whole home renovation project ourselves, we will deliver a cohesive home that epitomizes timeless elegance.
In order to do that to the best of our ability, we encourage you to involve us from the get-go. Below we articulate three reasons why it's best to involve us from the start
1. Establish the Scope
Home building and renovation projects, while exciting, are a major commitment. We advise prospective clients to dedicate time to thinking about what they are hoping to get out of their project.
Are you building a new construction home on Long Island? Trying to improve the flow of your existing home while incorporating your personal style? Dreaming of a home that will grow with your family and bring you joy for years to come?
By getting a clear picture of what it will look like before you embark on a home building or renovation journey, you are setting yourself up for success.
Think big and then outline some of the specifics—like the number of rooms and types of spaces—to establish a baseline based on what it is that you are trying to achieve. It may be helpful to think of this exercise as a primer for your search and discovery mission.
Resist the urge to get into the nitty gritty details; instead, focus on establishing a clear, high-level goal—like creating a home that suits your lifestyle. From here you can invoke the help of professionals to create a more detailed plan and determine the roles you'll need to fill in order to successfully achieve it.
2. Hire the Right Home Design Team, in the Right Order
Once you know what you're looking to accomplish, you can assemble a top-notch team of design and trade professionals to realize your vision. Depending on the scope of work, this may include an architect, interior designer, general contractors, and/or trades and craftspeople.
As a collaborative interior design firm, we are always excited to partner with architects. Our extensive training complements one another in both the logistical and creative sense. Together we can reimagine your home in ways you didn't know were possible.
We are so fortunate to live in an area with an ever-evolving architecture and design community full of wildly talented professionals at the top of their game.
If you hadn't yet considered hiring an architect or the idea of involving one seems intimidating, allow us to make introductions based on your specific needs—from project scope and personal style to personality and communication preferences.
For renovation projects that do not require an architect, we are happy to take the lead. In fact, we have a service designed for this exact purpose. Our Luxury Full-Service Design Plan is the ideal solution for any project that requires the involvement of a general contractor and/or talented trades and craftspeople.
We handle the hiring, coordination, scheduling, and managing of these skilled workers with aplomb, ensuring that nothing falls through the cracks and your project stays on schedule.
As an established Long Island design firm, we continuously cultivate our extensive network of manufacturers, contractors, trades, and craftspeople. Our clients never have to worry about finding a qualified professional subcontractor because we have a variety of trusted partners to choose from. This includes workrooms specializing in everything from window treatments to custom furniture and upholstery.
From the moment we conceive of a custom element for your home design project, we already have the perfect person for the job in mind. Masters of millwork, precision painters, expert electricians—we are fortunate to have them on speed dial.
While we love hearing from prospective clients at different stages of their journey, we can tell you from experience that it is best if we are involved from the beginning. If you are already working with a contractor, what have they been basing their work—and their budget—on if you haven't clearly articulated a design direction?
Coming to us when you are already in a state of overwhelm leads to a lot of gray areas, slowing down your project and potentially leading to costly mistakes or other less-than-desirable outcomes.
When you involve us at the beginning of your project, we take it all on. That means no calls throughout the day from your contractor or other on-site professionals while you're trying to run your business and live your life.
We proactively update all of our clients on details large and small throughout their project. Why sit around on a Sunday wondering where a piece is when you could be enjoying a delicious meal or fully focused on your family? Allow us to give you your time back before you even miss it.
3. Must Haves and Wish List Items
Now that you've come up with the big picture and determined which professionals will be guiding you on this journey, it's time to get into the specifics of your project. Our first step with our clients is always to come up with a wish list.
This goes beyond the reason for your renovation, like creating better flow, it articulates the specifics of the items, features, and details we must incorporate to accomplish that goal for you.
Wish list items are specific—like optimizing your home for entertaining or a main floor laundry—and they are often related to why you wanted to renovate your home in the first place.
Having trouble coming up with them (or cutting the list down) as you read this? Not to worry, we ask a ton of questions during our consultations to gain an intimate understanding of what you do and do not like, want or need so that we can translate that into your design.
From there we establish your must-haves or "wish list" items. These will guide us throughout your project and take priority in terms of everything from budget to square footage. They will also prevent us from getting off track as new ideas arise and keep us laser-focused on what you want to accomplish with your interior design project.
With our eyes on the prize, we will guide you through a successful new build or home renovation project. Because, in addition to being designers and project managers, we also make accountability buddies.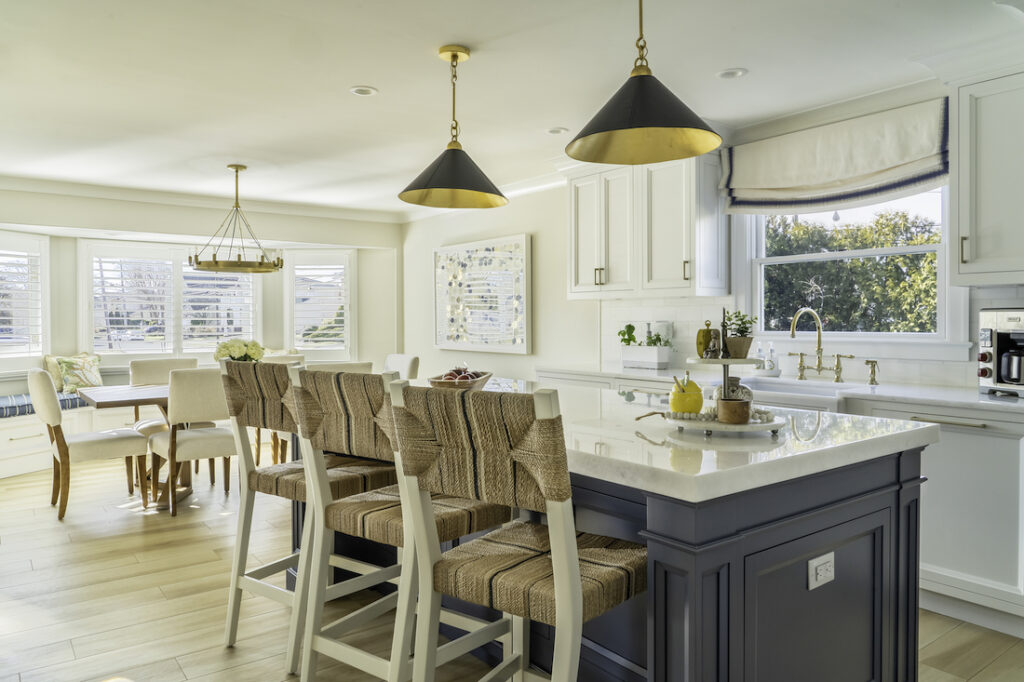 Now that you know our major must-haves for embarking on a successful interior design project, we would love to hear about yours.
Before you know it, you'll be saying, "I can't believe this is my home—I could have never done this without you!"
Let's Talk