How to Create a Home the Whole Family Can Enjoy
Growing up on Long Island, we had a room in our house that we never sat in. Outfitted with a beautiful burgundy sectional, our formal living room was off-limits to the kids—and there were five of us!
Despite my many attempts to reason with her, my mom stood firm on the subject and the room remained designated for special celebrations. It should have been clear at that point that I was going to be a designer.
Now, in both my professional and personal life, I rail against this traditional mindset. In my own home, all of my upholstery is white—dining chairs, sofa, my entire living room—but the color doesn't play a factor in our usage because I've selected easy-to-maintain materials.
Yes, we have young children, but there isn't an area of the home that is off-limits to them. They've simply learned to treat the items in our home with respect — and let us know right away when there's a spill.
When it comes to my clients, I encourage them to truly live in their homes, using every room.
Redesigning is an investment—you deserve to enjoy it! And you don't have to compromise. Together, we design interiors that will grow with you. So let's talk about our version of kid-friendly interiors.
Smart Choices & Extensive Planning
If you've been holding off on designing a common area in your home until your kids are older, we're here to tell you that you don't have to wait. We approach kid-friendly design as we do any other consideration—like designing a beach home or one for aging in place—we listen to your needs and make smart, stunning choices that align with your lifestyle and taste.
Clients who have children love our timeless, flexible, versatile, and welcoming approach to everything from family rooms to fully finished basements. What was once intended primarily for storage is now often used as an extension of people's first floors.
Here we can play with layout and create multi-purpose rooms and spaces that can handle the overflow of your main living space and grow with your entire family as your lifestyle changes.
We are currently working on a basement project that includes a full kitchen and full bath, an open space for hockey, a media area, a gym area, and a nook under the stairs for our client's daughter.
The space has been designed so that our clients can entertain guests down there without having to bring anything upstairs or have the kids be on a separate floor. It is a space where they can all be together and have everyone's wants and needs met.
We are always looking ahead when designing for our clients and this project is no exception. Accidents happen at every age, so we've chosen kid-friendly materials that make it easy to wipe up spills, but they are also elegant and beautiful.
When the kids are older, they can easily transition this to a teen space. And if they want to change up the look, they can swap out or replace decorative pillows and accessories.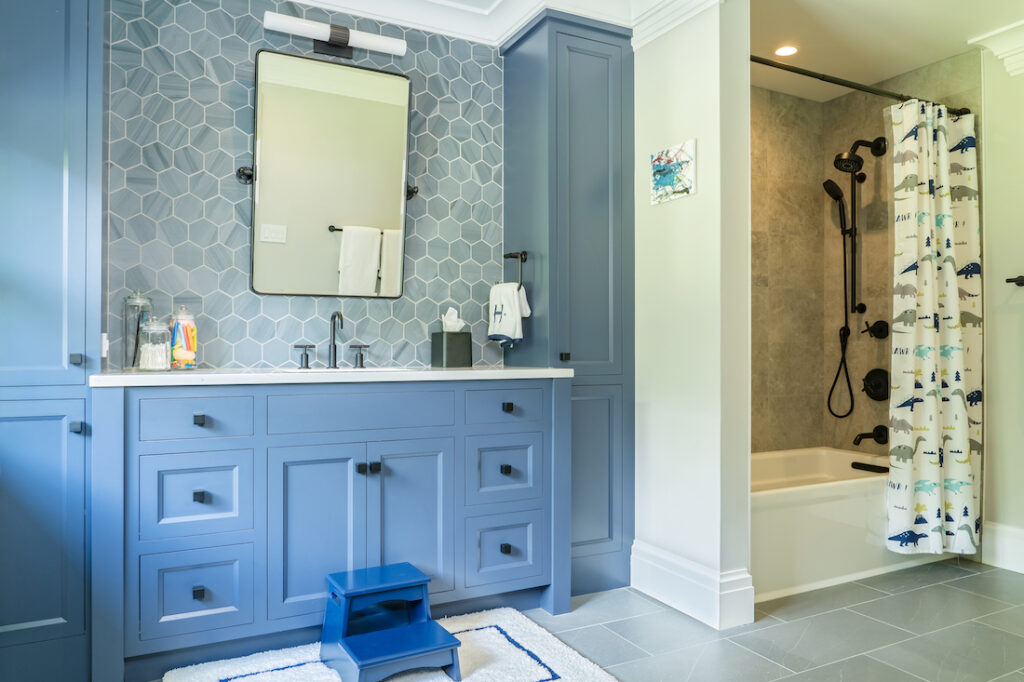 Kid-Friendly Furniture Selection
When designing common areas that the entire family can enjoy we want to make sure that there is ample seating. For large-scale items, we opt for classic shapes and clean lines in neutral fabrics.
Given that these items are the least likely to be replaced within 7-10 years, you'll want to invest in versatile choices that stand the test of time in terms of both structure and style. With timeless shapes, you can always reupholster the piece and get an entirely new look down the line.
The selections we make for this additional seating are an opportunity to have some fun. We love cube ottomans. They're multifunctional (footrest, anyone?) and easy to move when you need a bit more floor space for a dance party or an impromptu game of duck, duck goose.
Aesthetically speaking, they offer the opportunity to add pops of color and pattern without being overbearing.
Regardless of the shapes and styles of furniture you select, the key to lasting upholstery in these spaces is durability.
We guide you towards attractive choices that will provide the longevity you're looking for.
The Myth of the Dark Side
The idea that darker items—like rugs, sofas, and other surfaces—will hide dirt or camouflage stains is simply not true. In fact, many darker cabinet colors still show fingerprints and darker floors and fabrics show lint, dust, and stains in opposite colors.
We create a palette you love, then select surfaces and materials that are more forgiving and easy to clean. Smart choice satin or eggshell paint over flat or lacquer which are both likely to show tiny fingerprints
Toy Storage for Kids of All Ages
While children's toys have come a long way from the choices of either pink or primary colors of our youth, that doesn't mean you want to look at them every time you walk into your living room. As your children grow it's likely that they'll pick up new hobbies and interests, all of which will come with equipment and supplies.
Creating ample storage, like gorgeous custom built-ins, helps our clients to get—and stay—organized. This kind of forethought and planning makes every day easier and more enjoyable.
Committing to tidying up regularly and staying on top of any maintenance issues that may arise will go a long way in preserving the beauty of what we create together.
Personally, I do a quick walkaround every night before I go to bed. This calming nightly ritual allows me to appreciate our home and prevents me from feeling overwhelmed.
As for deeper cleaning and maintenance, we provide a basic care guide at the end of every project to each client. This easy reference tool will walk you through the simple steps to maintaining a home that is clean and cared for.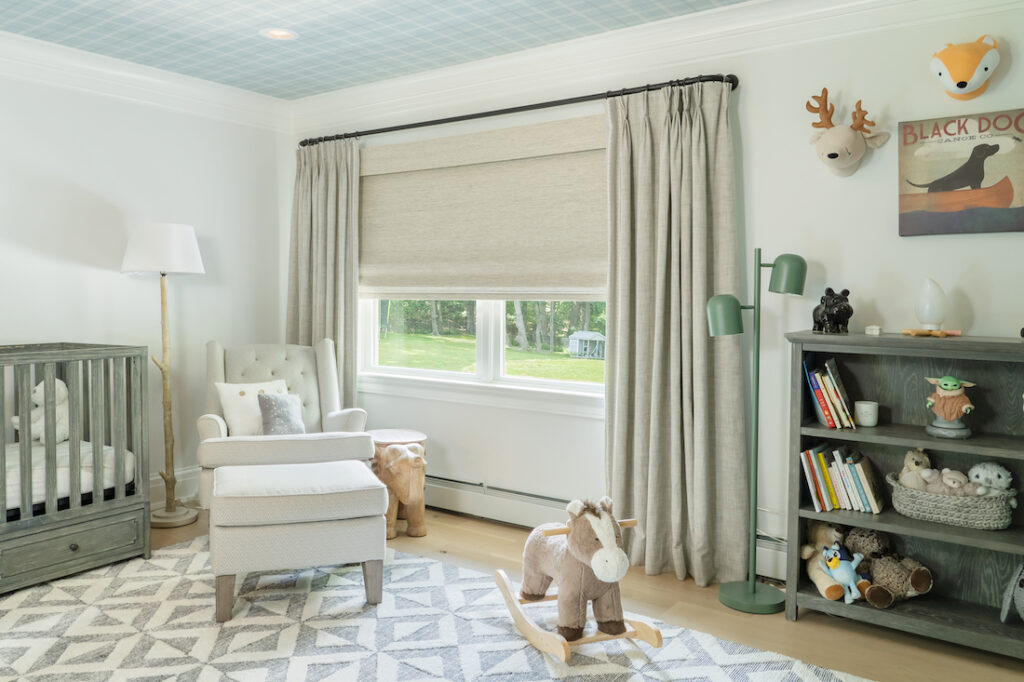 Child-Proofing Without Sacrificing Style
While we always advocate for the truest sense of your style, we also acknowledge that safety needs to come first. With that in mind, the most important, practical consideration for kid-friendly design is that there are no sharp or square edges and no glass.
Additionally, we'll want to select substantial furniture pieces with weight and secure any items that have the potential for tipping over with the appropriate anchors.
While especially important in homes with small children, this kind of safety measure is a good idea regardless of who will inhabit the home.
Design a Home That Will Grow With Your Family
There's a saying about parenting: the days are long, but the years are short. Your kids are growing every day and they won't be young forever.
By surrounding your family with the items that speak to you and show off your taste, you can show your kids who you are and possibly even inspire their style for years to come. By living with pieces that matter to all of you they will learn to appreciate and value the items in your home.
If you've been holding off on redoing a common area of your home "until their children get a bit older," we hope this post has caused you to reconsider.
When you're ready, we're here to help.
Let's Talk