Color Trends, Finishes, Ideas, and Inspiration for 2023 and Beyond
Our boutique Long Island interior design firm is well-versed in both whole-home renovations and new builds. Given the large scale of these projects and the fact that we are involved from start to finish, it can be easy to focus on flashier features like spa-inspired master bathrooms and ceilings with stunning architectural details.
We're here for all of it, but this blog post is about one of the great workhorses of the interior design industry—paint.
Every single project we take on involves paint. We are not kidding when we say that our Benjamin Moore rep is saved to our 'favorites' in our phones and our paint decks are perhaps the most used tool in our arsenal.
One could argue that paint is just the backdrop, but it's also an essential layer that holds the design together. We love working with clients to select the perfect palette, one that feels cohesive and complementary to all of the elements of our design.
With a material as varied and all-encompassing as paint, it can be difficult to know where to begin. With that in mind, we've put together some of our favorite tips and tricks to show you how we can transform your home with paint.
How We Help You Visualize
Floor plans and renderings are helpful in many stages of interior design, but when it comes to paint we like to show our clients specific, real-world examples. This allows us to break down any preconceptions they may have and expand their understanding of the power of paint.
When holding meetings in our office, we like to use dark paint to shatter the misconception that dark walls will make a room feel smaller. In our main meeting area, we used Benjamin Moore French Beret 1610 which, at first glance, reads as a dark, dramatic gray with a hint of navy. When you zoom out and look at our office as a whole, the dark color recedes to the background.
Between our built-ins—which are Benjamin Moore Decorator's White—bookcases, and windows, very little wall space is even visible. The dark paint actually creates an optical illusion that makes the space feel more expansive.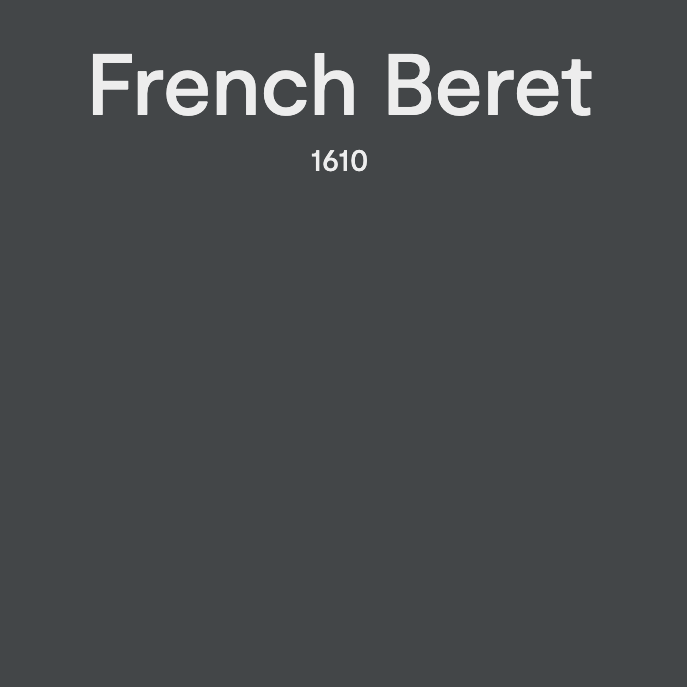 They see for themselves that the paint is one of many layers, much like the artwork, mirrors, and drapery accents that will adorn their design. By giving them these concrete examples they see they can trust our advice and lean on our expertise. We will make sure we get it done right.
Embrace the Endless Possibilities
No matter what new trend or technique arises, when it comes to paint there are no rules that apply across the board. As we sat down to write this post we tried to come up with at least one universal paint principle, but every time we thought we'd found one, there was always an exception.
This is one of the many reasons we love paint. Despite being one of the most easily accessible design tools, it's deceptively complicated.
We could spend hours perusing our paint decks, discussing the undertones of different whites, the merits of different finishes based on use-case, and the endless possibilities of decorative painting techniques.
That being said, what's fun for us may sound like torture to you. Luckily, our clients benefit from our obsession with paint and extensive knowledge of techniques and tricks.
One of the most common questions that clients ask us about paint colors is, "Do all the adjoining rooms have to be the same color?" This is especially common in homes with an open floor plan. The short answer is that they don't have to be the same. However, you want it to all feel easy on the eyes.
We can create dimensions and visual interest with contrasting trim work, tinted ceilings, and other soft and subtle techniques.
Some of our more adventurous clients are interested in introducing deep, rich colors to a palette made primarily of soft, muted neutrals. In these instances, we look to furniture, rugs, wallpaper, ceilings, and trim work. We may find a small space in which to create what we lovingly refer to as a 'jewel box' or an expertly placed accent wall, which can add dimension.
These wow moments deliver drama in small doses without asking you to commit to a completely crimson dining room or a navy study.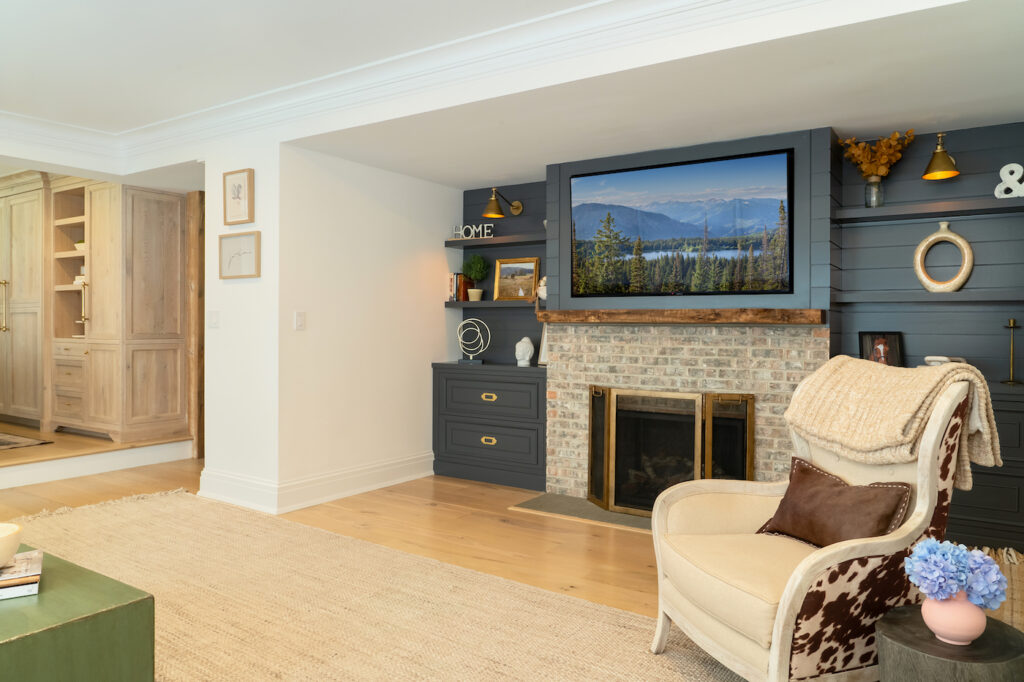 Timeless and Elegant Interior Paint Colors
One of our favorite ways to achieve a timeless paint palette is to mix warm and cool tones. This is not an exercise for the faint of heart as it can all too easily go awry, but we have ample experience creating pairings that play off of each other perfectly.
Another way of achieving this is to keep all the colors we select within the same tone or color saturation, thus creating a gradient of sorts throughout the home.
Another expert tip? Tinting the ceiling paint with the wall color. This creates contrast between the crown molding and the ceiling, allowing the trim work to really pop. Our clients love the subtle variation that has the added bonus of leaving their guests wondering what makes it feel so undeniably special.
It's so easy to forget the ceiling, but painting what is often referred to as "the fifth wall" adds drama, dimension, and interest. Believe it or not, in some instances it can even make the room feel larger. Every client we've ever done this for has loved it.
This level of cohesion is a specialty of ours. No matter how old your home may be, our designs pull the various spaces together—from the exterior throughout the interior—and make it feel as though it were all designed at the same time.
Accenting Architecture
Many of the homes we have the pleasure of working in here on Long Island have incredibly stunning architecture. Never ones to shy away from a challenge, we love to highlight these architectural details with a deep color or a different treatment.
We carefully assess how the feature fits into the big picture and explore opportunities to tie everything together with paint.
When adding architectural elements and millwork like built-ins, we love to accent these custom components with a pop of color. These features are investments, why not show them off? The perfect paint color will hint at the custom aspect and add personality to what is already a stand-out piece.
In each of these instances, our clients need to trust us to know what the wow factor can be. We're happy to say that we have yet to disappoint anyone. In fact, we have a reputation for hitting it out of the park.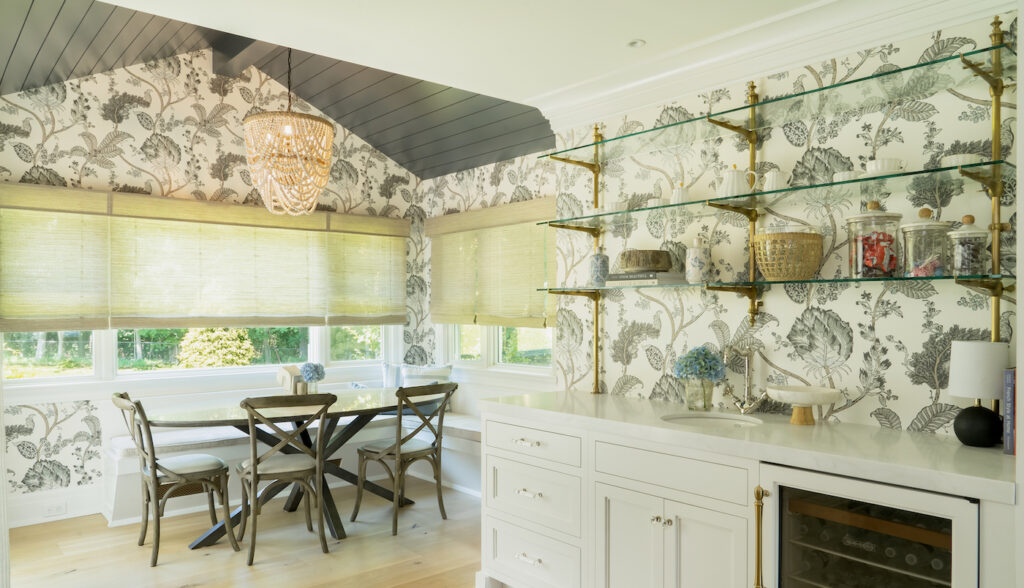 It's All in the Technique
In addition to paint color, we also consider finishes and techniques. Each paint selection needs to work with the finishes throughout your home, creating balance and harmony.
One of my favorite, timeless decorative painting techniques is limewash which creates a mottled, matte surface. In addition to a subtle, but healthy dose of texture, limewashing can add depth to a room and play with the light in a space in the most beautiful way. We just had the entire exterior of a brick house lime washed in one of our projects and the impact is tremendous.
The same clients opted for another exciting paint technique in their bar area where we created a speakeasy vibe by selecting a copper paint for the ceiling that replicated the finish of their copper bar top.
Had we simply presented a copper paint chip to them at the outset of the project, we might have had a different outcome, but by presenting our paint selections as part of a larger scheme they were able to see our vision and embrace it.
Paint Color Selections, Made Easy
The next time you find yourself in the paint aisle, pulling chip after chip—and possibly feeling like you want to pull your hair out—we hope you'll give us a call. We would delight in assisting you with your paint color selections. We promise that the end result will be worth it.
A Word to the Wise: The power of paint to help you envision your dream home is not to be underestimated. If we wind up redesigning your entire home in the process of selecting a paint palette, don't say we didn't warn you.
Let's Talk